Winner of Best Activity @ Visit Wales Tourism Awards 2018
About us/Croeso (fersiwn Cymraeg isod)
Loving Welsh Food offers a variety of food & drink tours, cooking workshops and presentations. The aim is to have a delicious day out, where you'll also find out more about Wales' food heritage, its people, culture and traditions.
We can organise all of our tours in French, Italian and German as well as English and Welsh.
We also offer online experiences – such as Welsh Food Cook-Along, Wine Tasting & Welshcakes and the Welsh Food & Drink experience – all enjoyed from the comfort of your own home,
For more info click here.
Come and share our passion and tickle your tastebuds the Welsh way.
If you would like any more info about our tours and activities, please get in touch.
"Rwy'n dwli ar goginio, pob math o fwyd a diod, ac yn falch iawn o'r cynnyrch
gwych sy gennym ni yma yng Nghymru"' Sian Roberts, Perchennog
Mae Loving Welsh Food yn trefnu teithiau blasu, gweithdai coginio a chyflwyniadau ar gyfer grwpiau, lle cewch gyfle i flasu a chlywed am fwyd a diod Cymreig mewn ffordd difyr ac ysgafn.
Mae'r teithiau, gweithdai a'r cyflwyniadau ar gael yn Gymraeg, Saesneg, Ffrangeg, Eidaleg ag Almaeneg.
Am fwy o wybodaeth, cysylltwch a ni gan ddefnyddio'r dudalen cyswllt.
Welwn ni chi'n fuan! See you soon!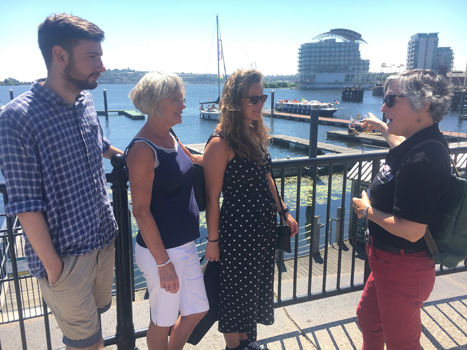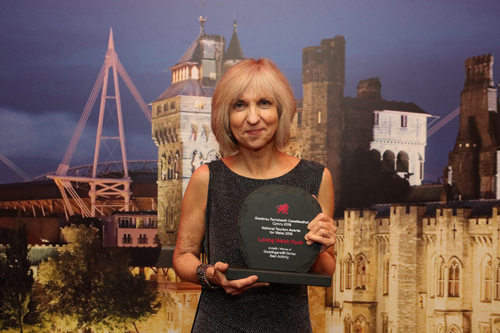 Our aim is to invite all of our guests (locals and visitors to Cardiff/ Vale of Glamorgan) to:
experience the best of traditional and modern Welsh dishes and drinks
visit independently owned shops, cafes, pubs and restaurants and meet the producers
share our stories about Welsh life, history and culture
learn a few words of Welsh
and most importantly, enjoy an entertaining and delicious day out.
Welwn ni chi'n fuan! See you soon!