One of the best ways to get to know a place is through its food,
and that's where we come in! We offer entertaining tours full of
delicacies, anecdotes, and gorgeous sights. Our tours are available
in French, Italian and German as well as English and Welsh.
We also host memorable evenings of Welsh food, poetry and
song – the perfect introduction to our beautiful country
Un o'r ffyrdd gorau o ddod i adnabod lle yw trwy ei fwyd, a dyna
lle ry ni'n dod i mewn! Rydym yn cynnig teithiau difyr yn llawn
danteithion, hanesion, a golygfeydd hyfryd. Mae ein teithiau ar gael
yn Ffrangeg, Eidaleg ac Almaeneg yn ogystal â Saesneg a Chymraeg.
Rydym hefyd yn cynnal nosweithiau cofiadwy o fwyd, barddoniaeth
a chân Cymreig – y cyflwyniad perffaith i'n gwlad brydferth
Our vision
To see the brilliance of Welsh food
and drink recognised worldwide.
Ein gweledigaeth
Gweld disgleirdeb bwyd a diod Cymreig yn
cael ei gydnabod ledled y byd.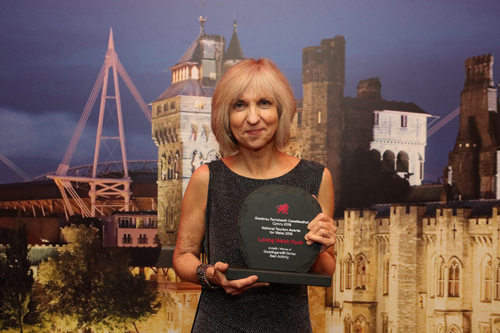 Our mission
We help people get to know Wales better, whether they
are locals or visitors. Our entertaining tours give a true taste
of our country in all its diversity and deliciousness, championing
our best independent food businesses and highlighting
culinary traditions old and new.
Ein cenhadaeth
Rydym yn helpu pobl i ddod i adnabod Cymru'n well, boed yn
bobl leol neu'n ymwelwyr. Mae ein teithiau difyr yn rhoi gwir
flas ar ein gwlad yn ei holl amrywiaeth, gan hyrwyddo ein
busnesau bwyd annibynnol gorau a thynnu sylw at
draddodiadau coginio hen a newydd.
Meet our founder, Sian Roberts
Sian Roberts ddechreuodd y cwmni
Sian grew up in South Wales speaking Welsh and English,
studied languages at university, and then worked all over
the world as a tour guide for eight years.
When she returned to Wales she went into broadcasting. Over the
years she's worked as a radio announcer (you can still catch her on BBC
Radio Wales) and on various TV and radio shows. She hosted a radio
programme in Hong Kong on RTHK and produced and presented both
the S4C Holiday Show and Welsh magazine TV programme Heno. Other
credits include HTV agricultural programme Grass Roots and corporate
production work for Hybu Cig Cymru – Meat Promotion Wales.
Sian's passion for food has steered much of her career;
one of her highlights was making Coginio, a much-loved two-DVD
Welsh and English language food and cooking series. This inspired
her to launch Loving Welsh Food.
Sian loves the full array of Welsh food and drink – meat and seafood;
artisan wines and cheeses; traditional recipes such as cawl or
bara brith; and the cosmopolitan modern Welsh food scene which
combines excellent native ingredients with cooking traditions
from around the world.
Sian's all-time favourite Welsh foods are cheeses (any and all of them),
and lamb casserole made with flavourful Welsh lamb – but she's
always making new discoveries from the fast-evolving food scene in
Cardiff and beyond, and she gets a huge buzz out of sharing
her discoveries with others.
Delicious days out in Cardiff and South Wales!